Best toilet cleaning hacks you should know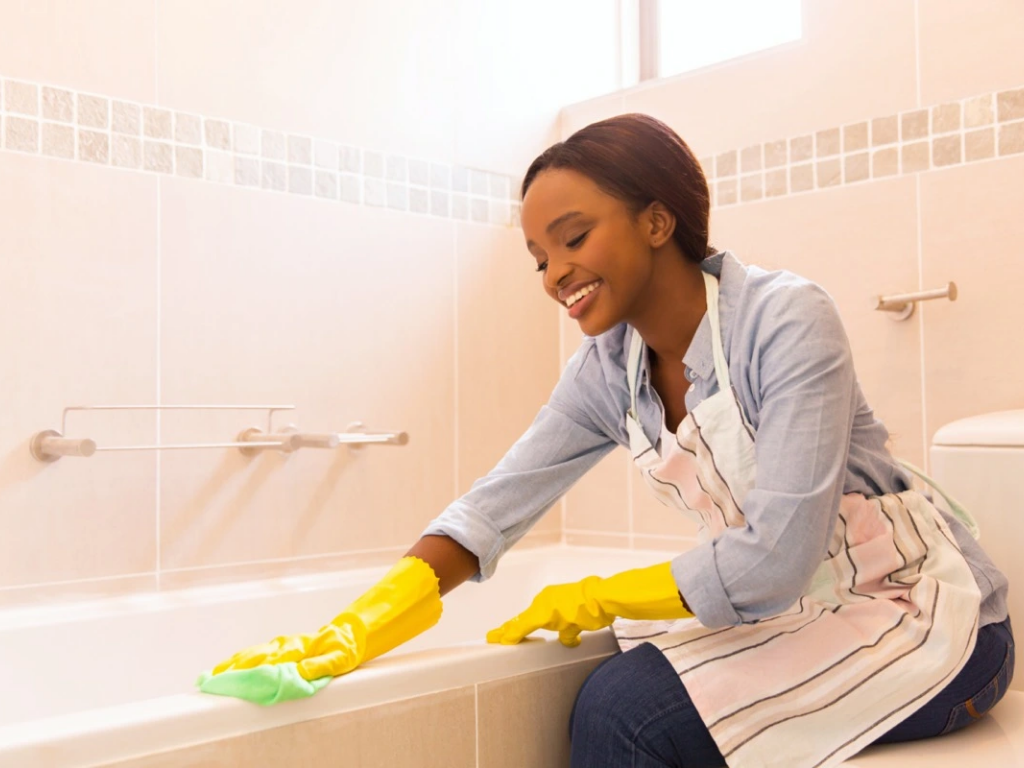 ---
---
No one cares about cleaning the bathroom until the unpleasant smell and the dirty mirrors start bothering you.
Cleaning a bathroom can be a hectic job, even more, when you have a busy life schedule. It isn't anyone's favourite thing to do. Your bathroom is not only a room but an essential part of your house. Unfortunately, it is one spot where the dust and the bacterias tend to reside more.
Whether it's for taking a quick shower or spending some quality time alone as a mini spa to wash away your tiring mood, the bathroom is the perfect spot for us. But when the bathroom seems dirty and stinky, it adds more frustration to your mood.
Aside from their appearance, dirty toilets can also invite a lot of harmful effects on your health
The cleaning process of your bathroom has the next level of terror attached to it. Keeping your bathroom clean somehow reflects your living standards. Hence, here are some of the effective and the easiest hacks to try to clean your bathroom.
Toilet Cleaning Hacks and Tips To Try
Toilet cleaning can be exhausting, so we have listed out some of the handy hacks that might be helpful for you to do it a lot faster and more efficiently.
Here are a few of the tools or products you need before cleaning.
Mask
Proper gloves
Microfiber cloth or any cleaning cloth
All-purpose cleaner
Liquid soap
Vinegar or baking soda
Sanitizer
Hacks for Bathroom Cleaning
Use Hydrogen Peroxide to disinfect
Hydrogen Peroxide is very effective in disinfecting your toilets rather than the other harsh chemicals. Most individuals mainly use hydrogen peroxide to sanitize their bathrooms.
To disinfect the bathroom, you need to put some hydrogen peroxide and let it sit for at least 30 minutes before flushing. Cleaning and disinfecting the bathroom consist of a vast difference.
Disinfecting the toilet is not usually done as the cleaning is done. You can keep your bathroom sanitized by cleaning it more often or regularly. It will make your bathroom look tidy and disinfected from germs and bacteria.
Also Read: BEST KITCHEN CLEANING HACKS: A STEP-BY-STEP GUIDE
Clean the hard water scum
The liquid or the soap scum formed around the taps is tough to remove. Even with continuous cleaning, it might be tough to get rid of it. The hard water consists of calcium and magnesium salts. When the hard water gets mixed with the soap, it starts reacting with calcium and the magnesium ions of the hard water.
When it starts reacting with soap, it creates salts that are miscible in water, forming a white layer on the water's surface. To remove such a stain, you can add vinegar with the baking soda and make it a paste. Gently spread it to the affected areas and let it sit there for about 15 minutes. Wipe down the paste with the soft microfiber cloth after then.
Scrub down the dust and dirt from the tiles
The tiles in your bathroom are like a home for the dust and bacteria. All of the dirt starts gathering in the tiles when we don't clean the bathroom for a few days. It is tough to clean such areas when the dirt isn't cleaned regularly.
Your bathroom won't look fresh and tidy with dirty tiles. It can be very time-consuming when you tend to clean it after a few days. To keep it clean, you need to scrub it now and then. Cleaning such tiles can make the chances of bacteria residing in them less.
Also Read: HOW TO TROUBLESHOOT AND REPAIR AN ELECTRIC WATER HEATER
Clean or replace the shower curtains
The shower curtains in your bathroom add a little more vibe to its surroundings. The dirty and messed-up curtains make the whole bathroom look untidy. You should check your curtains more often as they might be torn up or need some dry wash.
Replace the old curtains if needed or gently wash them often. Use the paste of vinegar and salt in some spots if it has stains. Let it dry and get hard and then gently wash it with the water. Rinse them with the mildly salted water before hanging, which helps from mildew formation.
Get rid of rusty faucets
Your faucets and taps in the bathroom ain't remain shiny as before if you tend to ignore the fact that it needs cleaning more often. Such rusty faucets in your bathroom seem untidy and dirty.
Rust often builds up in the shower, sink, or water tank. You can try cleaning it by rubbing it with toothpaste. It might sound weird to use toothpaste, but it does wonders to your rusty faucets. It can easily clean those rust and make it shinier.
Apply some clear polish around the sink when it's dry to prevent from rusting.
Also read: TYPES OF LIGHT BULBS: WHICH BULB TO BUY?
Clean your dirty mirrors
The bathroom mirrors can get stained and spotty with water and other materials. Mirrors tend to get dirty even with few splashes of water either while brushing your teeth or washing your face and so on.
You can wipe it regularly to keep it neater. To remove the stains, you can use a liquid soap mixture of vinegar and spray it thoroughly in the mirror. After gently wiping it can then watch how your mirror shines.
Scrub the toilet bowls, rings, and bathtubs
Your toilet bowls or the dirty bathtubs can mess up the image of your ideal and maintained bathroom. Everything in your bathroom seems unappealing and dirty when your toilet bowl rings and tubs are dirty.
Make a habit of flushing every time you use it. Use different cleaning products that consist of fragrances to remove the unpleasant odour and the look. Clean it now and then or daily to make it cleaner. Also, don't forget to sanitize it after the cleaning process is done for cleaning.
I hope the hacks mentioned above or methods can be helpful for you. For more cleaning tips, stay updated with khojsewa and seek help from cleaners nearby. Share this with your friends and family who might need any help regarding cleaning hacks.